Subscribe/Access
Features
Back
Welcome Mr. President
Preparations continue for an historic presidential visit to Franklin County and to one of the country's leading biotechnology firms.

White House spokesperson Jeanie Mamo said President George Bush is scheduled to arrive Thursday at Novozymes to take part in a panel discussion about alternative fuels.
Read More | Post Comment
By CAREY JOHNSON, Times Staff Writer - 10 opinions posted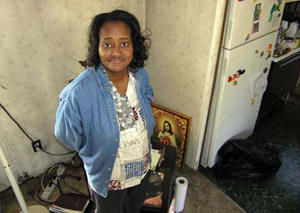 Mary Collins stands in her living room in a mobile home she has lived in all her life. She recently lost a job cleaning in an Apex industrial building and is hoping to secure work through the state Employment Security Commission.
We, The People
Messages go out to president
Less than a half a mile down the road from where President George Bush will be speaking Thursday, Mary Collins was keeping warm in a pair of socks, a denim over shirt and flat, black-velvet slippers with bows.
She lost her job a couple of weeks ago, is planning to file for Food Stamps and can't afford natural gas, relying on a single kerosene heater.
Read More | Post Comment
By KATHY HARRELSON, Managing Editor - 33 opinions posted
C.L. Gobble announces retirement
Louisburg's longtime administrator announced his retirement on Monday, electing to end 26 years of service this spring.

As the final order of business during the administrator's report, C.L. Gobble told the board that he would step down from service on April 1.
Read More | Post Comment
By CAREY JOHNSON, Times Staff Writer - 2 opinions posted
LC list for new president down to three names
The months-long search for a new president of Louisburg College is winding down and the list of candidates for the job has been narrowed from 48 to just three.

But before a final decision is made by the school's board of trustees, probably in April, those in charge of the search are asking for input from the community.
Read More | Post Comment
By GARY CUNARD, Times Publisher - 5 opinions posted
Moratorium fails in 4-3 vote
County commissioners will look at planning issues surrounding the airport, but voted against using a temporary moratorium to control residential growth.

Staff proposed that the county institute a six-month moratorium in a 19-square-mile oval surrounding the airport and proposed hub site so staff could develop a small area plan to determine the best way to keep residential development from encroaching on both projects.
Read More | Post Comment
By CAREY JOHNSON, Times Staff Writer
CELEBRATING BLACK HISTORY
Robert Taylor tells children and others the importance of education after accepting the Educator of Distinction Award during a Black History celebration on Friday night at Terrell Lane Middle School hosted by the county's African American Cultural Club and the Arts Council. Taylor taught in the county school system and at Louisburg College for decades.
Read More | Post Comment
1 opinion posted
Lancaster resigns from Airport Commission
Commissioner Don Lancaster resigned his position on the Airport Commission citing a heavy workload and concerns about commissioner service on appointed boards.

When the county reconvened its airport governing board, two commissioners were appointed to the then five-member board.
Read More | Post Comment
By CAREY JOHNSON, Times Staff Writer - 2 opinions posted
A Raider Rally
BUNN - Since both teams had already wrapped up state postseason berths, playing for pride was the main theme of last Friday's Northern Carolina Conference Tournament boys basketball championship.

But there is always plenty of pride to go around in the NCC, even if the playoff lives of both clubs weren't at stake.

That's why the Bunn Wildcats were so devastated -- and the Southern Vance Raiders so euphoric -- following SV's 43-42 decision over the Wildcats in the NCC Tourney finale at the Bunn Dome.
Read More | Post Comment
By Geoff Neville, Times Sportswriter
Wildcats advance with win
BUNN - Who says that Bunn's bench could be a potential hindrance in the Class 2-A State Boys Basketball Playoffs?

That certainly wasn't the case Monday as subs Derrick Knight (18) and Joey Batkoski (11) combined for 29 points as BHS defeated Eastern Guilford by a 67-54 margin in the Wildcats' playoff opener at the Bunn Dome.

The victory was the 20th of the season for Bunn, which will carry a 20-6 mark into today's second-round matchup -- also at home -- against the Cardinal Gibbons Crusaders.
Read More | Post Comment
From Staff Reports
Another late loss for Canes
LOUISBURG - That losing feeling has started to become nauseating to Louisburg College men's basketball coach Aaron Denton.

Time and time again, LC has held leads in Region X matchups, only to lose in the end.

History repeated itself last Saturday as the Hurricanes fell 52-51 to Clinton Community College at Holton Gymnasium on the LC campus.
Read More | Post Comment
From Staff Reports
A Crown For BHS
BUNN - Even with the myriad of successful accomplishments during the Daniel Wright Era, one accolade has consistently escaped the Bunn Ladycats.

A Northern Carolina Conference Tournament championship.

Bunn has been the No. 1 tourney seed on several occasions, but was always unable to came away with the title trophy.
Read More | Post Comment
By Geoff Neville, Times Sportswriter
Mueller claims mat crown
NEWPORT - Before last Saturday, Franklin County had never boasted a regional wrestling champion.

That changed in a six-minute span as Louisburg's Noel Mueller delivered a crown in the 140-pound division at the Class 1/2-A East Regionals at Croatan High School.

Mueller, a junior, earned the lofty feat with a 9-5 decision over North Brunswick's Richard Guthridge in the finals.
Read More | Post Comment
From Staff Reports
Pirates drop a heartbreaker vs. UCLA
LOS ANGELES - Brandon Crawford's grand slam in the bottom of the eighth inning secured a series win for the 15th ranked UCLA Bruins as they defeated East Carolina 9-7 last Saturday afternoon inside Jackie Robinson Stadium.
Read More | Post Comment
From Staff Reports
JAMES D. WHELESS
LOUISBURG - James David Wheless, 75, died Friday evening, Feb. 16, 2007. Funeral services were conducted Monday, Feb. 19, in the chapel of Strickland Funeral Home, Louisburg, with the Rev. Kenny Lamm, his nephew, and the Rev. Michael Spain officiating. Burial followed in the family cemetery at the home of Mr. Wheless where he lived his entire life.
Read More | Post Comment

CAROL J. MALONE
SHARPSBURG - Funeral services for Mrs. Carol J. Malone, 60, who died Thursday, Feb. 15, 2007, were conducted Tuesday, Feb. 20, at Mount Carmel Baptist Church, with the Rev. Leonard Johnson officiating. Burial followed in the Gardens of Gethsemane.
Read More | Post Comment

SCOTIA P. MASSENBURG
LOUISBURG - Funeral services for Scotia P. Massenburg, 86, who died Saturday, Feb. 17, 2007, will be conducted at 1 p.m. today (Wednesday, Feb. 21) at South Main Street Baptist Church, with the Rev. David Rosby officiating. Burial will follow in the Nelson Chapel church cemetery.
Read More | Post Comment

EDWARD HAUSCH
OXFORD - Edward Hausch (known locally as Edward House), 74, died Monday, Feb. 12, 2007 at Wake Med Hospital. Ed's wishes were for his friends and family to remember him as he was, without a memorial service.
Read More | Post Comment

CHRISTINE C. HOCUTT
ZEBULON - Christine Hocutt, 94, of Guardian Care, died Saturday morning, Feb. 17, 2007. Funeral services were conducted Monday, Feb. 19, at Watkins Chapel Baptist Church, with burial in the church cemetery.
Read More | Post Comment

MARYELLEN BRENNAN
YOUNGSVILLE - Maryellen Brennan, 46, died Saturday, Feb. 17, 2007 at Rex Hospital in Raleigh. A memorial service celebrating her life will be conducted at 7 p.m. Thursday, Feb. 22, in the chapel of Bright Funeral Home, Wake Forest. Friends may visit with the family immediately following the service.
Read More | Post Comment

BETTY B. WHEELER
WAKE FOREST - Betty Brown Wheeler, 77, died Thursday evening, Feb. 15, 2007 at Hillside Nursing Center. A graveside service was conducted Sunday, Feb. 18, at Wake Forest Cemetery. She was born in Wake County, the daughter of the late William "Pa" Brown and Pearl Mingia Brown and was retired from Westinghouse.
Read More | Post Comment