July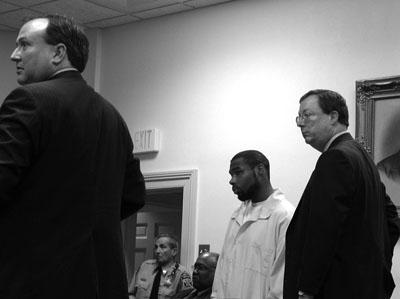 • Developer Jim Moss approached the Board of Education to buy land for a new high school and new elementary school.

The original proposed deal was packaged to buy both lots off Bert Winston Road.

The BOE deemed Moss' deal too restrictive. Moss was asking for a holding fee, too high of a price per acre and too much in return in water and sewer hookups to adjacent properties, the BOE determined.

• One defendant in the shooting death of Bunn High School athlete and student Marc Philipeaux was argued in court to have too low of an IQ to face the death penalty.

A score of 70 is the cutoff in North Carolina.

Defendant Antione Perry scored just less than 70 in high school and middle school.

• A state Medicaid freeze for county expenses was OK'd in the Legislature.

• Local car dealership D&J Auto celebrated its 43rd year.

• The downtown art gallery Art de Jour was hosting artists' receptions to standing-room-only crowds.

• BioWork classes started at Vance-Granville Community College's Louisburg campus to accent the opening of the state-of-the-art Biotechnology Center.

• The Boys and Girls Club in Franklin County got closer to reality with a $50,000 grant from the Office of Juvenile Justice and Delinquency Prevention. The club set its eyes on an end-of-year opening.

• Bunn High student Nick Bell snagged a winning bass, taking the championship home during the North Carolina Bass Federation Junior state competition.

• Franklin County Economic Developer Ronnie Goswick was named the president of the state Economic Development Association.

• Former Commissioner Jim Moss continued to court Board of Education members to buy two tracts of land for new school locations, coming off the original asking price and loosening terms. The BOE still deemed the conditions too restrictive. Meanwhile one of the lots winded up in court over a trustee dispute.

• Fourth of July celebrations lit up the skies countywide.

• Deputies responded to a domestic violence call at the home of County Commissioner Chairman Sidney Dunston. Dunston was not charged in the situation in which his wife claimed he pushed her and hurt her hand. Dunston left the home upon police request.

• The county Finance Department was honored with a top-performing award by the Government Finance Officers Association of the United States and Canada for excellence in financial management,

• Novozymes was recognized for leadership in the biotechnology industry by the North Carolina Biotechnology Center.

• The Franklin County School system started its move of the Central Office to the Riverside campus.

• Mitchell Hardware in Franklinton opened.

• West River Road at Buffaloe Creek was closed due to a washout from Tropical Storm Ernesto. The Department of Transportation reported it could take up to a year to repair. Cost was estimated at $300,000 for a new box culvert; a new bridge was estimated at more than double.

Concerns about safety, convenience and emergency response times were raised.

• The Louisburg Town Council eliminated parking requirements downtown.

• The Youngsville Area Business Association's Revitalization Committee received a $25,000 grant from Crescent Communities, developer of Hidden Lakes subdivision outside of town. Money was used to upgrade the downtown area and to expand a Farmers' Market.

• Ten of 14 Franklin County schools made average yearly progress under the federal No Child Left Behind mandates.

• The county's convenience centers started opening six days a week from 7 a.m. to 7 p.m. in the wake of the county's $45 trash fee.

• The county appropriated $50,000 for the airport to pursue a $500,000 grant for hangars.

• Extension agent Will Strader joined the Franklin County Extension Service.

• Progress on selecting a new elementary school site was made as soil tests at the Mitchell property come back favorable.

• Issuing certificates of participation to fund school facility needs became a topic among commissioners and Board of Education members.

• Advance Metal Processing announced plans to build off T. Kemp Road in Louisburg.

• Ben Barrick was arrested in Hoke County and charged with communicating threats and stalking against a police officer's wife. Barrick was facing involuntary manslaughter charges in the NETSTAR helicopter crash in Franklin County at the time.
Printer-friendly format
---
---