September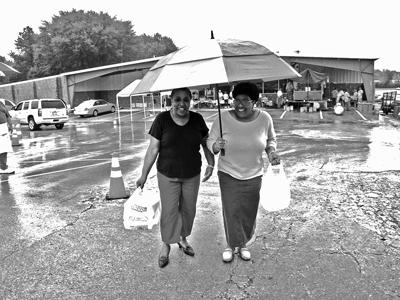 • Franklin Regional Medical Center confirmed reports that it was considering a relocation closer to Franklinton or Youngsville, moving away from its existing location in Louisburg.

• Construction projects at Bunn and Louisburg high schools were under way.

• The Committee of 100 proposed the county allow a shell building to be built on property at the airport.

• A federal court judge was to review a provision of No Child Left Behind that conflicted with a federal desegregation court order imposed on the county.

• The annual Justice Tractor Show had its biggest turnout since its inception in 2000.

• Franklin County Chamber of Commerce Executive Director Shana Filter resigned.

• The Shriners sponsored an annual fish fry to raise dollars for burned and crippled children.

• Louisburg College hired James Williamson to lead the campus Police Department.

• The new location for the State Employees Credit Union was dedicated in Louisburg.

• Services for remembering the sacrifices in 9/11 were held at the county courthouse, sponsored by the county's Democratic Party.

• The Board of Education agreed to ask commissioners for $12.5 million to build a new elementary school in the Youngsville/Franklinton area. The board continued to favor the Mitchell property for the location, negotiating $35,000 an acre for about 30 acres in the wake of commissioners rejecting a NASSIF contract for $14,000 an acre for a joint location that would have also included a new high school.

• Emily Honeycutt Dorsey celebrated her 100th birthday at a community party at White Level Baptist Church.

• The Chamber of Commerce sponsored a public forum on infrastructure.

• Centerville's Firemen's Day was a big success with a live bluegrass band, food and a traditional auction.

• Fund-raisers for the upcoming November election started kicking into gear with sheriff's candidates Kent Winstead and Pat Green leading the way.

• Youngsville resident E. Carroll Joyner was honored during a building dedication on the campus of N.C. State University. The E. Carroll Joyner Visitors Center was called the gateway to the campus.

• The United Way of Franklin County donated $5,000 to the Boys and Girls Club.

• A break-in and theft at the Department of Motor Vehicles Office in Louisburg compromised 16,000 motorists' records.

• Louisburg College President Dr. Reginald Ponder announced his intent to retire in 2007. A search committee started work to find a replacement.

• Epsom had a big day with Firemen's Day, an annual fund-raiser for the Volunteer Fire Department.

• The annual Cattlemen's Beef Roast raised nearly $5,000 for local scholarships.

• The Board of Education gave a nod to the Mitchell property for an elementary school land buy and to the Forest City tract of Cedar Creek Road for a high school land buy.

• Franklin County Schools' Child Nutrition Director Betty Collins retired after 30 years of service. Jama Gilliam Stallings would be named to fill her shoes.
Printer-friendly format
---
---