Subscribe/Access
Features
County Stars Sparkle! 2006: What A Sports Year It Was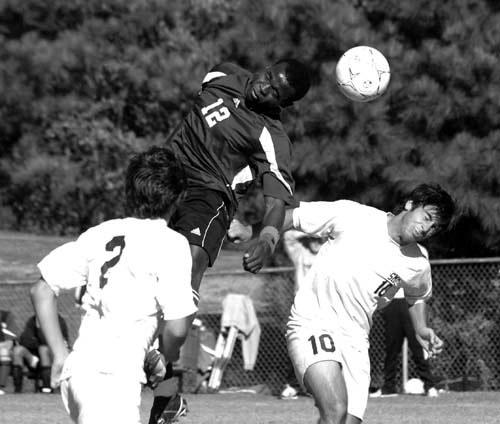 FRANKLIN COUNTY — A reunion, a few farewells and a bountiful welcome home provided key stories during a busy 2006 in the Franklin County sports scene.

One of the county's greatest-ever teams -- the Louisburg High School 1970-71 state basketball champion -- gathered in February to relive the historic moment.

On the same night -- Feb. 3 -- legendary girls basketball mentor Lester Wilder coached his final regular season home game. Wilder was later saluted at a roast in May.

Another long-time county hoops coach -- Louisburg College's J. Enid Drake -- stepped down after spending five decades in charge of the men's program at LC. His successor would be another familiar local face, as former Bunn High athlete Aaron Denton returned home in March.

Here are the year's Top 10 stories, in order:

LHS Reunion
1. Members of Louisburg High's only boys state basketball champ met at the LHS Gymnasium on Feb. 3 and were introduced to the crowd.

Banners were made for each player, and performers and coaches also received plaques featuring a team photo.

Many of the former teammates hadn't seen each other since graduating from LHS, so bear hugs and smiles were the order of the night.

After the ceremony, the champions attended a team party at the home of head coach Tommy Twitty, who still lives in Louisburg.

LEADER OF THE PACK. Bunn High School senior Tria Metzler (foreground) ran away from the competition en route to winning the Class 2-A East Regional and State Championships in the 3,200. Metzler also won the regional 1,600 and took second place in the same event at the states. Metzler closed her amazing career with a pair of state 3,200 crowns, along with the 2005 Class 2-A State Cross Country Championship. Tria is now a freshman at North Carolina State University. (Photo Submitted by Elaine Mercer)



FHS Changes
2. Current Athletic Director Deran Coe summed it up best when he said that Lester Wilder 'Is Franklinton'.

Wilder will forever be remembered as one of Franklinton's favorite sons. A native of the town, Wilder returned after college and began a prosperous coaching career at FHS.

That glorious tenure ended in February as he retired as the school's women's basketball coach and athletic director. Fittingly, Wilder won his final regular-season home game as FHS, in front of a huge crowd that featured several former players, defeated Bunn.

Wilder wasn't just successful on the playing field -- he touched many lives and encouraged FHS athletes and students alike to become productive citizens.

Franklinton said goodbye to Wilder with a roast in May at the FHS Gymnasium. A banner saluting Wilder is now on permanent display at the gym.

Coe was chosen to succeed Wilder as the school's AD.

Another highly regarded FHS coach stepped down when boys hoops mentor Thurman Jordan, who had led the Red Rams to three straight conference championships, opted to accept a similar position at the new Holly Springs High School in Wake County.

The popular Jordan also coached track and field at Franklinton.

LC Changes
3. For some, it was impossible to fathom what the Louisburg College men's basketball sideline would look like without J. Enid Drake.

Drake, a member of the National Junior College Athletic Association Hall of Fame, coached his final game for the Hurricanes at the Region X Tournament after spending five different decades on campus.

The highlight of Drake's career came in 2002, when he led Louisburg College to the region and district titles as the Hurricanes advanced to the NJCAA National Tournament in Hutchinson, Kansas.

Drake's successor was destined to have huge shoes to fill, but Bunn native Aaron Denton heartily accepted the challenge.

Denton, who had experience as an assistant at Guilford, UNC-Greensboro and Miami-Dade on the college level (and Southeast Guilford as a head coach on the high school level), was offered the position in late March and immediately accepted.

Denton currrently has the Hurricanes with a 13-3 worksheet in his initial campaign.

Irish Eyes
4. Notre Dame's football program doesn't recruit in Franklin County very often -- if ever.

That was until the Irish began to court Bunn High School standout Kerry Neal.

A defensive end, Neal verbally committed to Notre Dame in February, and he expects to officially sign with the Irish in two weeks.

Neal was selected as a first-team all-stater and played in both the North Carolina-South Carolina Shrine Bowl and East-West National All-Star Games.

Neal and his BHS teammates enjoyed another strong season as the Wildcats went 12-2 and reached the Class 2-A quarterfinals.

Bunn Hoops
5. For the third consecutive season, the Bunn Wildcats reached the Final Four of the Class 2-A State Boys Basketball Playoffs.

In a year that exceeded all expectations, the Wildcats got hot when it counted and made it all the way to the state semifinals before falling to a strong Burlington Cummings team (which went on to win the state title).

Senior point guard Marcus Little, who was one of the key performers for the Wildcats, signed with Louisburg College after the season, and he currently starts for the Hurricanes.

Tria Metzler
6. Bunn High's Tria Metzler will go down as one of the county's all-time great track and field athletes following another stellar performance at the Class 2-A State Meet.

In the final event of her career, Metzler won the Girls 3,200 for the second consecutive year. Metzler also won the state cross country championship as a senior.

Also at the states, Metzler took second place in the 1,600.

Metzler is now a freshman at North Carolina State University in Raleigh.

State Champs
7. Franklin County had never won a Dixie Youth state title until the Louisburg Major League All-Stars performed the lofty feat in 2005.

It was Bunn's turn in 2006 as the Bunn Youth Recreation League Girls Coach-Pitch Darlings All-Stars claimed the state softball crown in July in Lincolnton.

The Darlings, coached by Chris Brantley, went on to post a fifth-place finish at the Dixie World Series in Dyersburg, Tenn.

Upon their return, the Darlings received proclamations from the Town of Bunn for their amazing achievement.

Other Franklin County teams that won Dixie Youth District Tournaments were the Louisburg Minor League All-Stars (baseball), the Bunn Coach-Pitch All-Stars (baseball) and the Bunn Angels (softball).

Prep Title Time
8. Several Franklin County high school sports squads enjoyed sterling seasons in 2006, including the Louisburg High School spike team, which reached the semifinals of the Class 1-A State Playoffs.

The finish was Louisburg's best on the state level since a finals appearance in 1997.

LHS claimed the Wachovia Cup in the Tar-Roanoke Athletic Conference with league titles in boys track, girls track, baseball, softball, volleyball, golf, girls tennis and junior varsity volleyball.

In the Northern Carolina Conference, Bunn took titles in softball, girls swimming and volleyball (tournament), while Franklinton was crowned the league champion in boys basketball and boys soccer.

The boys soccer title was the first in school history as the Red Rams shared the top spot in the NCC with annual power Roanoke Rapids.

College Heroes
9. Mike Rinfrette's freshman season at Wake Forest University was a fabulous one as the redshirt from Bunn High School played a key role in WFU's first Atlantic Coast Conference Football Championship since 1970.

Rinfrette was a reserve fullback and special teams ace for the Deacons, who played in the Orange Bowl and lost to the Louisville Cardinals in a hard-fought contest.

Five of Rinfrette's former BHS teammates are also playing on the collegiate level -- James Jones (Mars Hill), Corey Perry (Chowan), Jake Thorne (Chowan), Joey Henn (Air Force) and Mossette Heath (North Carolina Wesleyan).

Jeremy Arrington -- the leading rusher in Louisburg High School history -- capped off his strong career as a senior captain for the Carson-Newman Eagles. Arrington led the Eagles in rushing.

Franklinton High's Mario Bellamy completed his two-year tenure at Louisburg College and is expected to continue his career at a four-year school.

Region Champs
10. Louisburg College claimed Region X Tournament championships in men's soccer, softball and women's basketball, with the soccer squad earning a third-place finish at the National Junior College Athletic Association National Tournament in Tyler, Texas.

The LC softballers, coached by Don Gines, also competed in the national tourney, while LC's women's hoops squad came within one game of the nationals, falling in the districts to Georgia Perimeter.

LC's women's basketball team lost only twice the entire season, and both setbacks came against Georgia Perimeter.

LC's men's golf squad was also a national tourney participant in New York to cap off another strong campaign for head coach Charles Sloan.



LHS' SENIOR STARS. Louisburg High School seniors (l to r) Chasity Hilliard, Brandi Pinnell and Chasity Hilliard helped lead the Lady Warriors to the Final Four of the Class 1-A State Volleyball Tournament. The seniors are pictured after accepting their plaque for making the semifinals. Louisburg won the Tar-Roanoke Athletic Conference regular season and tournament titles before making the school's longest postseason run since 1997. LHS was coached by first-year mentor Erica Wammock. (Times photo by Geoff Neville)
Printer-friendly format
---
January 20, 2007 at 12:00am
i'll start with a compliment for Erica Wammock's girls. Good job. But did you notice most of the HS headlines were about BHS and it wasn't like Geoff was showing favortism. Those kids just play in a better conference and have better coaches, parents, and fans.
I saw where Louisburg won several conference titles but the conference they play in(with the exception of boys hoops), I could take any number of drunks from a bar and beat those teams. Good year in sports FC and great year of writing Mr. G.Neville. Gary Cunnard has some talented young writers so fork over the cash Gary so they'll stay!
January 28, 2007 at 12:00am
Lester Wilder has crossed sooooo many boundries that it is impossible to say how many people lives that he has affected and still affecting, Lester always made himself within reach. I can remember lester reaching a group of us that would have just remained farm boys and girls by personally providing rides to and from pratice and games in his car sometimes having to make 2 or 3 trips before going home. I can never remember a day when lester took off because of being sick or not feeling good. He was a different kind of guy that no one can capture all of him but we all walked away wit ha little bit of him and now there are alot of little lester wilders sprinkling his power all over the world. he is also a very good teacher in the class room.... Lester I cant say thank you enough for all that you have done for so many starting with me first R harris USN ret. I think a movie would be aprotiate or what about LESTER WILDER FOR PRESIDENT
January 28, 2007 at 12:00am
Right johncena. Alot comes out of this little paper; hope they all stay for a long time!



---